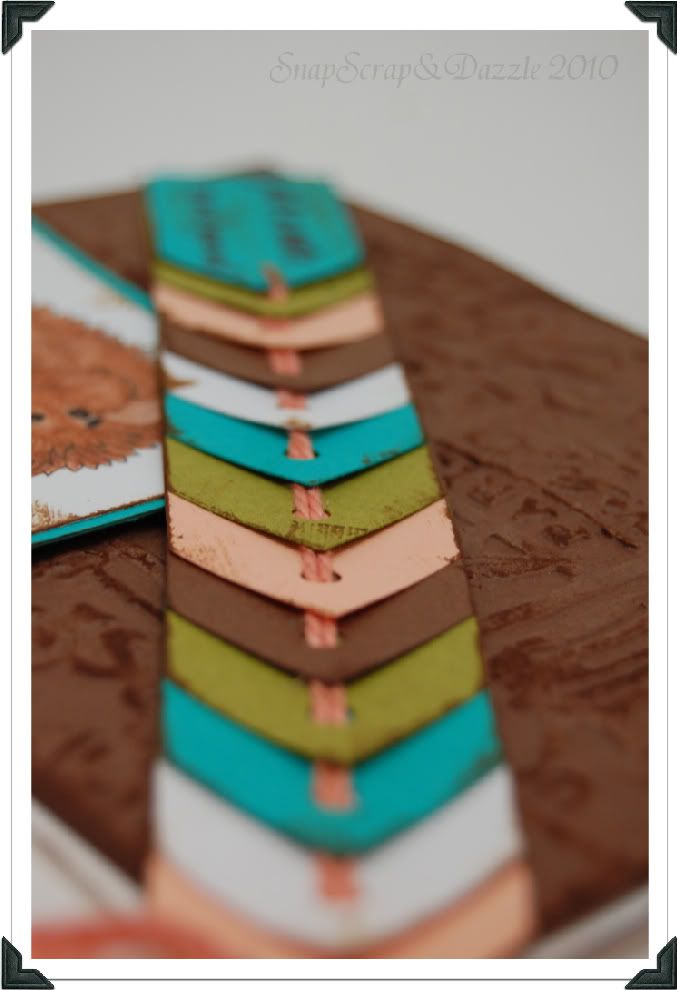 Another out of the ordinary lay out tonight. All those arrows had me seeing tags, lots and lots of tags. So I cut lots and lots of tags! :D I made this card primarily as a masculine card but seeing as I had to incorporate some peach color for the challenge, I chose a couple peach tags and peach thread. The sentiment on the last tag is a digital stamp from Whimsy Stamps, just altered a bit using brown instead of black on my computer and ran through the printer a few times. The green 'coin' in the slot was a fluke. The space it is in is actually a ticket, but the slit popped open. So, I decided to slip in the stamped circle as sort of a coin. The hedgehog digital stamp I thought gave the card a little bit of fun ---'whimsy grunge'.
CHALLENGE:
ColourQ #43
SPIES:
Stamps:
Digital hedgehog - DigiDoodle Shop. Sentiment - Whimsy Stamps. Leaf flourish - mini stamp from stash.
Paper:
Bermuda Bay, Old Olive - StampinUP!, Peach , white, and light brown -stash.
Ink:
Staz On Timber Brown; Vintage Photo distress ink - Tim Holz. Sienna brown watercolor pencil - Prismcolor.
Extras:
Peach embroidery thread. Patchwork emboss folder - Tim Holz. Tag Die - Sizzix.
Well, August is literally around the corner ---30 minutes to be exact. I guess that means we will be entering the dog days of summer, although around here it has already been like that for some time.
"Heat, ma'am! it was so dreadful here, that I found there was nothing left for it but to take off my flesh and sit in my bones." ~Sydney Smith, Lady Holland's Memoir
Well,